As flu season makes it more difficult to diagnose vaping-associated lung injury, US physicians have published guidelines on how to treat the condition.
US medics have come up with a set of guidelines to help identify and treat patients for lung injuries associated with vaping and e-cigarettes.
The recommendations, published in the journal Lancet, come after the US Centres for Disease Control and Prevention (CDC) confirmed two more vaping-related deaths last week, taking the total death toll to 39.
Lead author Dr. Denitza Blagev, a pulmonary and critical care physician at Intermountain Healthcare – a not-for-profit healthcare system in the US – said: "This is still an ongoing outbreak and not something we've seen with vaping before."
The guidelines – which provide details on how to diagnose and treat patients – are based on research gathered from 60 patients at Intermountain's hospitals and clinics across the country.
The recommendations include shorter courses of moderate-dose steroids for patients either treated as outpatients or admitted to hospitals.
For those who are critically-ill on admission, the researchers advise giving higher doses of intravenous steroids that are tapered more slowly.
Challenges associated with flu season
Blagev said: "Through sharing the guideline, we are reaching clinicians and keeping e-cigarette or vaping-associated lung injury on everyone's minds, especially as we enter flu season and diagnosing vaping-associated lung injury becomes more challenging.
"We now have a standardized approach to treat these patients and we are starting to learn about what the recovery and complications are."
Study participants diagnosed with vaping-related lung injuries showed flu-like symptoms, shortness of breath, coughing and chest pain. Abdominal symptoms such as nausea, vomiting and abdominal pain were also reported.
According to the medics, chest x-rays of these patients revealed abnormalities in the lungs that are usually associated with pneumonia, fluid in lungs or lung inflammation.
The test subjects were reported to have used e-cigarettes within 90 days of the symptoms appearing. Most of them were treated with oxygen and steroids, along with a course of antibiotics due to overlapping pneumonia symptoms.
While more than half of the patients were admitted to an intensive care unit, the researchers said most of them recovered quickly following steroid treatments.
However, six of those patients relapsed and had complications requiring hospital readmission.
THC and vitamin E acetate
Among the patients who were readmitted to the hospital, most of them had been critically ill when they initially came in for care and half of them had resumed vaping after discharge, researchers reported.
Of 26 patients who were followed up within two weeks, 10 of them had residual abnormalities in their lungs.
Two patients died and lung injury associated with e-cigarettes or vaping was thought to be a contributing factor, but not the cause of death, for both, the researchers wrote in their paper.
According to the medics, their findings show what lung injuries associated with e-cigarettes or vaping look like.
While the majority of the patients vaped THC, a psychoactive compound in cannabis, some reported only vaping nicotine. As the cause of e-cigarette or vaping-associated lung injury still remains unknown, the researchers are advising avoiding all vaping exposure.
A substance called vitamin E acetate was identified in all of the samples tested by New York state health officials at the beginning of October, but there is not enough evidence to determine whether this is the exact cause of vaping related illness.
Dr. Blagev said: "Time will show us the long-term outcomes and the cause of this new disease, but in the meantime, the surest way to prevent lung injuries associated with e-cigarettes, or vaping, is not to vape."
In the UK, Public Health England (PHE) stands by its claim that vaping is 95pc less harmful than smoking.
Outside of the US, there have been no reported cases of lipoid pneumonia associated with vaping.
The UK's PHE maintains that e-cigarettes containing nicotine are more tightly regulated in the UK than in the US and those main chemicals under suspicion in the US such as THC and Vitamin E acetate oil are not permitted in e-cigarettes in the UK.
Professor John Newton, director of health improvement at PHE, recently wrote in a blog post: "We are keen to understand more about what is happening in the US, so we are in regular contact with US federal agencies including the CDC, the Food and Drug Administration (FDA) and the National Institute on Drug Abuse (NIDA)."
-PA Media
Vaping and e-cigarettes: What the research says
An increasing number of countries are banning e-cigarettes. Queen's University Belfast's Prof Lorraine Martin and Dr. James Reihill explain why.
The White House recently announced plans to ban flavored e-cigarettes – except for tobacco-flavored products – because of a rise in the number of middle and high-school students using these products. A few days later, India's cabinet approved an emergency order banning the production, import, and sale of e-cigarettes.
To date, many countries (mostly in South America, the Middle East, and south-east Asia), have banned or restricted the sale of e-cigarette products. Some countries have also banned the possession of these products. Thailand has the strictest laws, while countries such as Australia, Canada, and Norway have introduced tight restrictions.
.@SecAzar on President @realDonaldTrump's e-cigarette announcement: pic.twitter.com/HYp8l4KCUW

— The White House (@WhiteHouse) September 11, 2019
Research suggests that e-cigarettes may help smokers quit regular cigarettes, benefiting their long-term health. But young people who have never smoked traditional cigarettes are taking up e-cigarettes, which are available in more 1,500 flavors including bubble gum and candy floss.
In a 2015 survey of US youths aged 12 to 17, 81pc of e-cigarette users reported that the first product they ever used was flavored and that they use e-cigarettes because "they come in flavors I like".
According to the US Centers for Disease Control and Prevention (CDC), more than 3.6m children in the US use e-cigarettes, with a jump from 11.7pc to 20.8pc of US high-school students reporting e-cigarette use from 2017 to 2018. In the UK, 1.6pc of those aged 11 to 18 now use e-cigarettes more than once a week, compared with 0.5pc in 2015.
Because of the highly addictive nature of nicotine, there is a risk that young e-cigarette users might switch to using traditional cigarettes. Indeed, some healthcare professionals refer to e-cigarettes as a 'gateway drug'.
Research into vaping risks
E-cigarettes create an aerosol by heating a complex solution of chemicals comprising oils, flavoring, and nicotine. The fine particles released in the vapor are similar in size and concentration to tobacco smoke and so can reach deep into the lungs. Several of these chemicals are toxic to cells, but what makes research into their safety difficult is that each product is very different, with the final composition of chemicals being determined by the temperature at which the vaping device heats them.
Researchers have found that vaping irritates and inflames the airways, leading to the production of a greater amount of mucus and an increase in tissue-degrading enzymes called proteases. High levels of proteases can destroy sensitive lung tissue and reduce the ability of our lungs to function.
The resulting damage to the lungs is irreversible and over time can lead to severe lung conditions including emphysema, which is commonly found in chronic obstructive pulmonary disease (COPD). For those who already have a chronic lung disease such as COPD or asthma, vaping has been linked to an increase in the severity of symptoms.
Another study found that proteases are stimulated by e-cigarette vapor. The vapor was prepared from different e-cigarette brands and then used to treat isolated white blood cells in the lab. Levels of the enzymes were found to be similar, or more when the cells were exposed to an extract prepared from cigarette smoke. The increase in enzyme levels was also found with nicotine-free e-cigarette products, suggesting that other components in the e-cigarette vapor were responsible.
A recent US study, published in the American Journal of Respiratory and Critical Care Medicine, investigated the effect of chronic e-cigarette use on markers of lung injury in the airways of vapers. Proteases linked to tissue damage were increased in both smokers and vapers, compared with non-smokers.
'The evidence to date suggests that vaping is not a safe alternative to smoking tobacco. This, coupled with the worrying trend of young people being attracted to vaping, raises fears of another generation suffering from chronic lung disease'
The problem with investigating the potential harm of vaping is that there is such a vast array of products, devices, and flavorings that it's impossible to create a 'standardized exposure'. Individual e-cigarette products are reported to have over six flavoring chemicals with the sweetest flavors having a significantly higher number of compounds.
Tests of 166 e-cigarette products showed that one in five (21pc) contains flavoring chemicals that can be toxic to the airways (benzyl alcohol, benzaldehyde, vanillin). Several other toxic chemicals were also found and measurable levels of tobacco-specific nitrosamines (TSNAs, an important group of carcinogens in tobacco products) were in 70pc of the products tested. The effect of inhaling these complex mixtures of chemicals is very difficult to determine.
Is it safe?
Recent reports of deaths in the US associated with vaping have further fanned concerns on safety.
The CDC has reported a rising number of cases (530 across 38 states) of mysterious lipoid pneumonia associated with fats (lipids) in aerosols generated by e-cigarettes, which has been linked to eight deaths. It is worth noting that some who have developed lipoid pneumonia admitted that they vape THC (the active ingredient in cannabis), although others have insisted that they only used nicotine products with their e-cigarettes.
One substance called vitamin E acetate has been identified in all the samples tested by New York state health officials, but there isn't enough evidence to say if this is the cause of disease. And, so far, no cases of lipoid pneumonia have been reported outside the US.
The evidence to date suggests that vaping is not a safe alternative to smoking tobacco. This, coupled with the worrying trend of young, previous non-smokers being attracted to vaping, raises fears of yet another generation suffering from chronic lung disease.
Indeed, a recent study in The Lancet estimates that, in 2040, COPD will be the only disease in the top 10 leading causes of death that will still be increasing. How much of that will be driven by vaping remains to be seen?
By Prof Lorraine Martin and Dr. James Reihill
Lorraine Martin is a professor of biomolecular sciences in the School of Pharmacy at Queen's University Belfast. Her research is focused on chronic airways diseases, with a particular focus on cystic fibrosis and COPD. Dr. James Reihill is a senior research fellow in the School of Pharmacy with more than 10 years' experience in chronic lung disease research.
Vaping injury explanation comes closer with local research
Researchers at the University of Rochester Medical Center published new guidance Friday for doctors looking to diagnose lung injuries caused by vaping.
The article, published in the journal Lancet Respiratory Medicine, examined a series of patients who came to URMC with "respiratory failure of unknown origin" and a "history of e-cigarette or vape use."
They found that x-rays of all the patients' lungs showed signs of pneumonia and inflammation, but no evidence of infection. Ruling out infection as the cause of the respiratory failure allows doctors to move toward a diagnosis of a vaping injury, the researchers found.
The URMC researchers were joined in their analysis by staff at the Upstate New York Poison Control Center and other medical centers across the state.
"This is a diagnosis of exclusion," said the study's senior author, URMC's Daniel Croft. "We eliminate possible explanations of the injuries until we're left with basically only one option."
Experts are still trying to discern the precise cause of lung damage from vaping.
"There's no single test to confirm the diagnosis," Croft said. "I would love to be able to give you a blood test to see if you're suffering from a vaping injury, but we can't do that."
What the researchers did develop is a flowchart to aid doctors across the country in diagnosing vaping injuries.
"In a way it would be as if we were standing there with them, helping them think through their work," Croft said.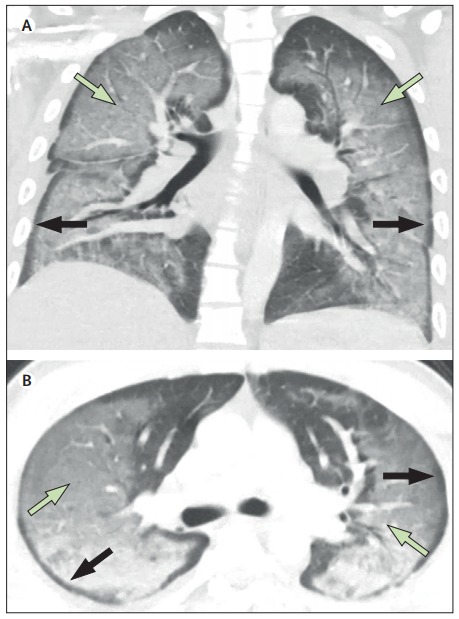 University of Rochester Medical Center researchers has new guidance for doctors trying to diagnose lung injuries caused by vaping. CREDIT LANCET RESPIRATORY HEALTH
The importance of this research lies in the lack of a clear explanation for exactly what is causing the injuries, said Croft.
The federal Centers for Disease Control reported Friday that it's found a chemical called vitamin E acetate in all 29 lung samples it analyzed from people diagnosed with vaping associated lung injuries.
The CDC called the finding a "breakthrough," but Croft said it's still not clear exactly how vitamin E acetate is damaging the lungs, nor whether it's the only chemical involved in the injuries.
New York state has been asking doctors who treat patients with signs of lung injuries caused by vaping to report their cases to the regional poison control centers and the state health department, but its ability to collect that data has been hampered by its classification: these are not cases of infectious diseases, for which reporting is mandated by the state.
As a result, WXXI News found, even doctors who were likely to treat patients with those injuries said they were not sure if they would (or should) report them.
Now, the state is being more forceful with its request.
"It is critical" that health care providers report cases, the health department said in a memo published alongside the URMC-led research.
"Health care facilities should ensure vape product samples are NOT destroyed, as this compromises the public health investigation," the memo continued in bold print.
Croft said samples of vape liquids will help researchers uncover more details about what's causing the injuries.
"We need to try to find the common threads between the different samples that are being submitted – to try to get a sense of whether there's one or a handful of ingredients in the e-liquid that are leading to this problem," Croft said.
While the number of reported deaths in the U.S. from vaping — 39, so far, according to the CDC's latest numbers — is much smaller than some of the leading causes of death nationally, Croft said addressing them is important, because they are preventable.
"The easiest way to prevent vaping associated lung injury really would be to not vape," he said.
Vitamin E acetate is most often found in illicit or black-market vape products, the CDC said, but a range of health authorities, from the county level to the CDC, have echoed Croft's call to stop all vaping.
New York Gov. Andrew Cuomo joined the chorus Friday afternoon: "As I've said from the very beginning: if you don't know what you are smoking, don't smoke it," he said in an emailed statement.